"Do One Thing and Do It Right"
— is the motto of our traditional French winery.   Here, as in the "Right Bank" wineries of France, a singular dedication and specialization is the secret to producing top quality wines.  At Cricket Hill that means a laser focus on creating a single style wine.  No compromises, no distractions.  Just a concentration on producing a Classic Right Bank Bordeaux here in Southern Oregon.  A wine that pays tribute to the world famous wines of France's  Pomerol and her larger sister the Saint Emilion appellations.
Experience The Difference Specialization Makes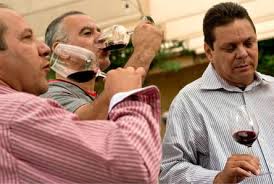 The Right Bank area of Bordeaux is long known for producing the most drinkable red wines in the world. That's one of the most remarkable things about the blends of Merlot and Cabernet Franc they produce: You can drink them young, enjoying their concentration of fruit, but you can also tuck them away for a decade or two and let them develop a softer, more complex weave of flavors.  Unfortunately the top tier wines made there are both rare and expensive.  So we've gone out of our way to bring the experience of those great wines to our fans at an affordable price. That doesn't mean skimping.  We still practice those labor intensive but time proven Old World winemaking techniques.  Techniques to insure our Estate Vinted wines express the complexity and balance characteristic of their noble heritage.  Come taste and see if you don't agree with others that these wines are special.
Tasting Room at the Winery is open weekends May 1 'til Thanksgiving but closed for crush in October.  Also open by appointment with 24 hour notice for small groups.  Check the Blog for special events as well as particular days and times the winery is open to the public or call us at (541) 899-7264 if unsure.