Winemaker's 2009 Vintage Wine Tasting Notes:
It's important to say that wines evolve as they age.  For that reason our winemaker dates his tasting notes and may provide more than one as the wine undergoes its natural evolution.  Below are the latest of his notes on our currently released wines.

2009 Cabernet Franc, Applegate Valley Grand Vin
Following 2 cool years the 2009 vintage returned to a more normal heat pattern.  Cool weather persisted through budbreak but accelerating heat accumulation through the rest of the season brought the vintage to 2,960 growing degree days at harvest but after 2 cool years the vines decided to instill higher phenolics than might be typical of a Cab Franc grape.   Relying more on taste than chemistry the winemaker decided it was time to harvest beginning the 7th of October and finishing the 27th.  The '09 Cab Franc hit the winery at a respectable 22 Brix .
Latest Tasting Note – March 19, 2016
An unusual 100% Cabernet Franc, an aromatic grape, this wine lives up to hits heritage and delights the nose with surprisingly intense aromas of flowers and toasted caramel.  On the palate it's flirtatiously feminine with evolving  levels of spice, white pepper and minty herbal undertones.
The wine is gorgeously colored but still throwing significant levels of tartrates so don't be surprised by the sediments.  To best appreciate the beautiful color and clarity of this wine shake it in bottle 24 hours before serving, store upright to allow the sediments to settle into the punt and decant 30 minutes before serving.
Varietals:
Cabernet Franc 100%
Skin Contact:
21 Days
Barrel Aging:
63 Months in combination French and American oak barrels.
Pair with: Best  paired with stews, creamed dishes and oriental foods but can also raise the appreciation of dark fish dishes such as salmon and tuna, especially when garnished with olives, mushrooms, and herbs.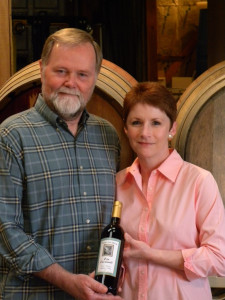 We sincerely hope you enjoy drinking these wines as much as we've enjoyed creating them for you.