Whew!  The Spring UnCorked event at Cricket Hill is over.  Much wine was poured, much food was consumed and a good time was had by all.
After a record attendance Sunday today is a recover and clean-up day.  Thanks to everyone who made the event memorable for us and a special thanks to the Designated Drivers who made the event safe for all our guests.  Designated Drivers Rock!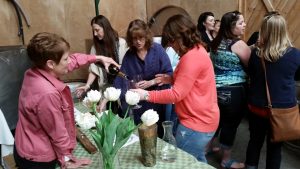 Serving Guests at Cricket Hill
If you missed the event, c'mon out this coming weekend and sample the new release wines you missed.  They were pretty well received!